We are blessed to have an amazing group of speakers to be with us on April 29, 2017 for our 2017 Men of Truth Conference: The Art of Godliness!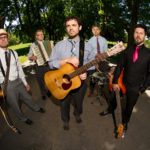 It's nothing new in Christian music for traditional songs to be re-shaped by the influences of culture and time. But perhaps it's the way Koiné is combining century-old hymns with a modern accompaniment that is causing people everywhere to take notice of what some in Milwaukee have known for years. Imagine a 1200 year old text and a 600 year old melody, married with a Les Paul, Steinway piano, drums and electric bass. With their arrangements, Koiné strives to find a unique balance between the familiarity of the classic hymn melodies and the raw instrumentation of the new arrangements.
Originally formed in 2003 as a worship band, Koiné quickly began to gain a grassroots following as requests for appearances and sales of their first album, Koiné (Self-Titled) started to roll in.
Since that time, local events turned into regional tours, and now Koiné travels the North America sharing their unique music ministry. Koiné has truly found a niche for themselves. Much of their music already has a welcome home in traditional worship, but with a modern sound that anyone can identify with.
Wayne Mueller
Dustin Blumer
Mike Westendorf
David Scharf