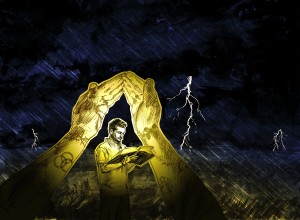 Come and join Men of Truth for the 2016 conference on May 7, 2016 at Martin Luther College in New Ulm. This year's conference is titled Shelter from the Storm, come find your shelter in the storms of this life.
Information
Date: May 7, 2016
Time: Registration opens at 8:30 am and conference ends after 3:00 pm
Location: Martin Luther College; 1995 Luther Court, New Ulm, MN 56073
Building: Wittenberg Collegiate Center (Auditorium and Classrooms)
Price: $30/person
Promotional Video
Conference Schedule
Note: This is the general outline for the conference. During the sessions, both Rev. Scharf and Rev. Mattek will be speaking, but the second session will not be a repeat of the first. You are invited to stay with the same speaker or to "jump rooms" and listen to the other.
8:30 – 9:30 am | Registration w/Continental Breakfast
9:30 – 10:15 am | Opening/Worship (Auditorium)
10:15 – 10:30 am | Passing
10:30 – 11:30 am | Session 1 (Classrooms)
11:30 am – 1:00 pm | Lunch (Luther Student Center)
1:00 – 2:00 pm | Session 2 (Classrooms)
2:00 – 2:15 pm | Passing/Snacks
2:15 – 3:00 pm | Worship/Closing (Auditorium)
During the passing times and lunch you will be encouraged to visit the ministry vendors who have setup on campus. Take the opportunity to meet and talk to a variety of people and ministries from around WELS/ELS.
Downloads
All downloads are color PDFs and you are free to download, print, and share in your congregation and community.
Illustration by Jason Jaspersen