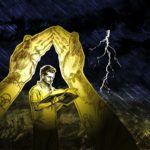 Thank you to everyone who came out to the 2021 Men of Truth Conference, Band of Brothers. It was a wonderful event with amazing speakers and a fantastic opportunity to gather together around the Word of God.
We had a nice turnout even in light of the ongoing pandemic. It truly was a blessing to have the opportunity to see real, live people face to face and enjoy great Christian fellowship!
If you have further comments about the conference, you can contact us directly and we want to hear from you. Otherwise, we're already making notes and pre-planning for the 2022 conference.
More information will be out in the future!